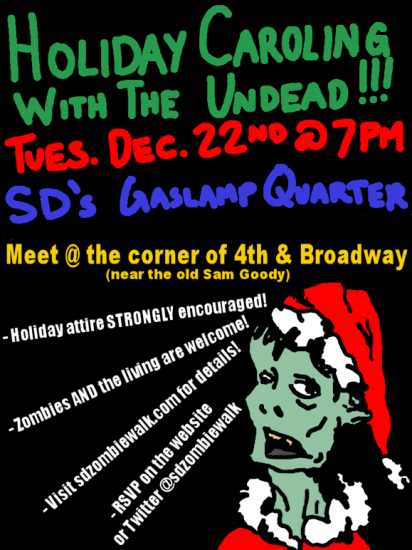 Not the holiday event that we'd originally planned – which unfortunately had to be canceled this year, due to illnesses and a few other factors – but still something! Join ZombieWalk:SanDiego and the hilarious folks from Roar Theatre, as the living and undead make their way through San Diego's Gaslamp Quarter, singing holiday tunes and handing out some tasty, tasty brains… I mean, uh… treats. Yeah.
Have an obnoxiously garish seasonal sweater? A Santa hat? Elf shoes? Extra tinsel and/or battery-operated lights? Wear 'em! Holiday attire is very strongly encouraged for all participants – zombies and humans alike – and we of course ask that you familiarize yourself with our usual walk guidelines to make sure everyone has a legal and safely festive time (and makes it to see 2010).
We'll be meeting at the corner of 4th & Broadway, near the old Sam Goody (adjacent to Horton Plaza – this is the same location we typically meet at for Comic-Con walks), at 7:00PM. We will start caroling shortly after, so please don't be late. There is plenty of parking at various structures and lots nearby. It is also close to many bus stops and a few trolley stations. We will not be providing makeup assistance for anyone, but we do encourage you to join us even if you are just in standard holiday attire and NOT a zombie – though we'd like to see as many zombies as possible!
Please RSVP either in the comments to this post, or on Twitter by sending a tweet to @sdzombiewalk, and letting us know that you'll be joining us (and how many people will be joining you). We'd like to get a rough estimate, as we may have something cool for those who show up in holiday attire. In years past, we have had an annual holiday ornament… and if we're going to continue the tradition this year, we need a deadcount!
If you have a business in the Gaslamp Quarter and would like the carolers to make a stop at your restaurant, store, bar, etc. please email us with your contact information and we'll get in touch!