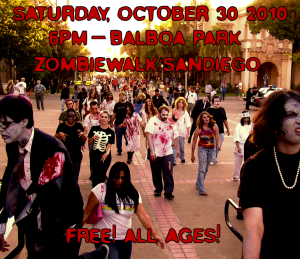 DATE: Saturday, October 30th, 2010
TIME:
* Meet at 6:00PM
* Walk at 6:15PM sharp – do not be late!!
* Please do not arrive before 5:45PM
LOCATION:
We are meeting at the fountain between the Reuben H. Fleet Science Center and the San Diego Natural History Museum. This is the location of the very first zombiewalk we held!

Directly following the Balboa Park zombiewalk, if you wish to participate in the Little Italy mini-walk, please meet us in front of The Casbah (2501 Kettner Avenue, San Diego) at 8:00PM sharp – we will do a short shamble through the area and then head back to The Casbah. All ages are welcome to attend the mini-walk, but entrance to The Casbah is strictly 21 and over.
DETAILS:
* We ask that you please familiarize yourselves with the walk guidelines, before arriving at the walk. This is important to make sure we have a walk that is fun and safe for everyone involved… and ensures our ability to continue holding zombiewalks in San Diego!
* As always, the walk is all-ages and free of charge to participate. The walk is open to EVERYONE, not just convention attendees!
* Please come dressed and made-up as a zombie (no masks). If you need makeup/supplies, please visit Gypsy Treasure in La Mesa, and tell 'em the zombiewalk sent you!
* We'll be giving away swag from Humerus, Zombie Flesh Jerky, and "We're Alive" (Zombie Podcast) with trivia contests and at the afterparty's costume contest!
* Public transportation (SDMTS) is readily available in the area. There are also many parking lots in the area, but spaces are limited. We strongly urge use of public transportation or carpooling.
* Following the Little Italy mini-walk, we'll be partying at The Casbah! Entry to The Casbah is $20 with a portion going to Donate Life California. Bands & DJs will be performing and there is a costume contest for cash & prizes! It is 21+ and starts at 9:00PM. More details can be found here and tickets may be purchased here.