Halloween is coming up and the zombies will be out in full force to celebrate! Join us on Saturday, October 29th, in the Gaslamp Quarter. We will be meeting at 5:00PM and walking shortly afterward.
Our initial meeting location is set to be the courtyard area next to Horton Plaza, outside of Sam Goody, at the corner of 4th & Broadway.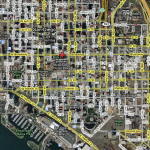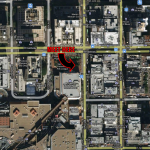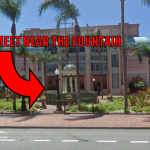 [click any image to enlarge it]
* As always, the walk is ALL-AGES and FREE of charge to participate. The walk is open to everyone, not just convention attendees! Remember… the more the scarier!
* Please come dressed and made-up as a zombie. If you need makeup/supplies, please visit Gypsy Treasure, in La Mesa, and tell 'em the zombiewalk sent you!
* We strongly encourage you to get creative with your own outfit & makeup BEFORE the walk. There will NOT be makeup assistance at the walk location.
* Public transportation (SDMTS) is readily available. There are also MANY parking lots in the area, but their pricing will be high and spaces are limited. We strongly urge use of public transportation or carpooling.
Please be sure to check out our walk guidelines. They are important to make sure we have a walk that is fun & safe for everyone involved and/or watching… and ensures our ability to continue holding zombiewalks in San Diego. We've had a great five years, so let's make sure we can have many more!
THE AFTERPARTY:
Following the walk, we invite all 21+ zombies to join us at The Lincoln Room (901 4th Avenue) for Happy Hour of the Undead. The Lincoln Room will be giving happy hour prices to all zombies (must be in makeup/costume) before AND after the walk! We'll be rotting there prior to the walk, so drop by and say hey and then come back with us after we get our shamble on through the Gaslamp. You can also pick up a ZombieWalk:SanDiego t-shirt for the special Halloween price of $10!
THE AFTER-AFTERPARTY:
We'll be going to get our decrepit dance on into the wee hours of the night at Club Sabbat's Halloween Party, at The Flame, located at 3780 Park Blvd. Club Sabbat starts at 9:00PM; cover charge is $11 and it is also 21+ only. They'll be doing a cash prize costume contest for the 4 best costumes, so bring your Z-game! More info on Club Sabbat at http://www.clubsabbat.net.
You can join our Meetup Group and RSVP at our Facebook event!
You can also follow us on Twitter for up to the minute news! We'll see you on October 29th!