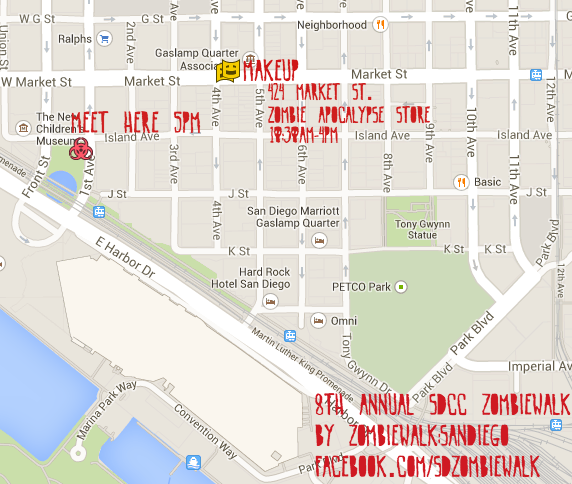 ZOMBIEWALK INFORMATION…
Where: We'll be starting the walk from Children's Park, near the corner of Island Avenue & 1st Avenue in San Diego's Gaslamp Quarter. 
When: Saturday, July 26th, 2014; meet at 5:00PM and we walk at 5:15PM.
Ages: All ages, from 3 months to 3 centuries! The zombiewalk is open to everyone who shows up as the undead. Bring your grandparents, bring your kids, bring your dog! Remember… the more the scarier!
Price: The zombiewalk has always been and will always be FREE!
How: 
– Please come dressed and made-up as a zombie. If you need makeup/supplies, please visit Gypsy Treasure, in La Mesa, and tell 'em ZOMBIEWALK:SANDIEGO sent you… they may hook you up, if you do!
– Do NOT bring extra blood/anything messy to the meeting location with you. You may NOT leave blood on the ground in or near the meeting location. You will be asked to leave if you are seen doing so. Please respect our local community. Being a "zombie" does not excuse you from common courtesy.
– We strongly encourage you to get creative with your own outfit & makeup BEFORE the walk as there will be NO onsite assistance with zombification.
– Please be sure to check out our walk guidelines. They are important to make sure we have a walk that is fun & safe for everyone involved and/or watching… and ensures our ability to continue holding zombiewalks in San Diego. We've had a great seven years, so let's make sure we can have many more!
More details for the walk will be added as we get closer to each event.
Please RSVP on Facebook to get updates.
We will also update here, but up-to-date info is always there!
---
OTHER FAQ:

Q: Where can I best view the zombies?
A: We generally stick to 5th Avenue in the Gaslamp Quarter. For these walks, we highly suggest patronizing one of the MANY fine eating establishments along 5th Avenue and asking for patio seating. You will get a GREAT view of the zombies and enjoy a delicious meal at the same time!
Q: Where can I get my makeup done?
A: On Saturday, July 26th, from 10:30am until 4:00pm, makeup artists will be available to assist you with basic zombification for a small fee ($10-20) at the Zombie Apocalypse Store Pop-up Shop, downstairs at The Haunted Hotel. Tipping the artists is strongly encouraged, as the fee goes to cover supplies. This is first come, first serve.
Q: I'm a member of the media and want to do a story on the zombiewalk… who do I contact?
A: Please send all media inquiries to sdzombiewalk[at]gmail.com and we will get back to you ASAP. Yes, we are happy to do appearances and interviews!
Q: Are you that zombie run at Petco Park?
Nope, we are not The Walking Dead Escape; we don't charge for our walk and never will. That's a completely separate event and not us, but we dig what they do!
Q: Where can I keep up with updates on the zombiewalk and events following the walk?
A: RSVP on Facebook and/or follow us on Twitter for up to the minute news! We'll see you on July 26th!