DATE:
Saturday, July 24th, 2010
TIME:
Meet at 6:00PM, walk at 6:15PM sharp – do not be late, because zombies are lurching at exactly 6:15PM (and there'll be stuff to give away between 6:00 and 6:15!)
LOCATION:
We are meeting at our usual meeting point of the fountain outside of Sam Goody, near Horton Plaza. This is the corner of 4th and Broadway, in downtown San Diego.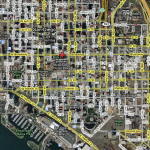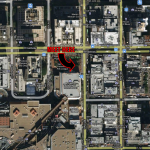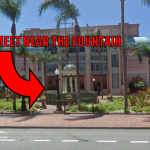 [click any image to enlarge it]
DETAILS:
* We ask that you please familiarize yourselves with the walk guidelines, before arriving at the walk. This is important to make sure we have a walk that is fun and safe for everyone involved… and ensures our ability to continue holding zombiewalks in San Diego!
* As always, the walk is all-ages and free of charge to participate. The walk is open to EVERYONE, not just convention attendees!
* Please come dressed and made-up as a zombie (no masks). If you need makeup/supplies, please visit Gypsy Treasure, in La Mesa, and tell 'em the zombiewalk sent you!
* The meeting location is within walking distance of the San Diego Convention Center. If you're coming from other locations around San Diego, public transportation (SDMTS) is readily available. There are also MANY parking lots in the area, but their pricing will be high and spaces are limited. We strongly urge use of public transportation or carpooling.
* RSVP on Facebook!
DATE:
Saturday, July 24th, 2010
TIME:
7:00PM – 9:00PM
LOCATION:
Quality Social – 789 6th Avenue, San Diego, CA 92101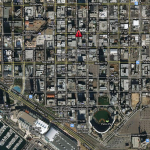 [click image to enlarge it]
DETAILS:
* Happy Hour of the Undead is a 21+ event. (We tried to get an all-ages venue, but there just aren't any viable options for that within walking distance of the Convention Center area.)
* A portion of all bar sales between 7:00PM and 9:00PM will be donated to Donate Life California, which is California's organ donation registry. Which means we'll be helping to save lives through our fundraising efforts!
* Bring a picture ID and be careful to apply your makeup in a manner in which it will still be possible to tell that you are the person on the ID.
* There is NO cover charge at Quality Social.
* Quality Social has great drinks and delicious food, at affordable prices, so it'll be a welcome break between the walk and whatever other plans you may have that night.
* RSVP on Facebook!
Costume Contest!
* Categories: Furthest Decayed, Best Celebrity, Most Creative, and Zombie of the Year
* Prizes: Each winner will receive a small trophy, plus a prize package featuring a Dismember-Me Plush Zombie (courtesy of ThinkGeek), a signed copy of the "Dead Speed" graphic novel, and lots of other goodies. Zombie of the Year will also receive a sash declaring them to be 2010's zombie of the year and an iPod loaded with "We're Alive" episodes (courtesy of We're Alive podcast)!
* Judge: Chris Gore – (@thatchrisgore – author, founder of Film Threat, Co-Writer/Producer of "My Big Fat Independent Movie", and frequently seen on G4's "Attack of the Show" – http://www.thatchrisgore.com
Zombie Shuffle Contest!
* Prize: The most entertaining zombie dancer will receive a small trophy, plus a prize package with a Dismember-Me Plush Zombie (courtesy of ThinkGeek), a $50 ThinkGeek gift certificate, and lots of other goodies.
* Judge: Enrique Limón – @enriquelimon – writer for San Diego CityBeat, art diva, entertainment guru, and one of the most fabulous residents of America's Finest City – http://bit.ly/enriquelimon
Trivia For Brains!
* Win prizes by answering zombie trivia questions on Twitter – including ThinkGeek gift certificates, a free night at The Sofia Hotel, a reanimated cooking package, zombie-related books & graphic novels, and more – while enjoying a drink and feasting at Quality Social!
PRIZES!
Many thanks to the following for donating prizes and giveaway items (and we'll be adding to the list as we get closer to Comic-Con):
* FEARnet – www.fearnet.com
* We're Alive Podcast – www.zombiepodcast.com
* ThinkGeek – www.thinkgeek.com
* The Sofia Hotel – www.thesofiahotel.com
* Salon Styletto – www.salonstyletto.com
* Forbidden Panel – www.forbiddenpanel.com
* Harcos Labs (Zombie Blood) – www.livingwithbloodlust.com
* Zombie Rock Apparel – www.zombierockapparel.com
* Zombie Flesh Jerky – www.zombiefleshjerky.com
* "Dead Speed" (writer Keith Arem) – www.dead-speed.com
* "Night of the Living Trekkies" (by Kevin David Anderson & Sam Stall) – Quirk Books: www.irreference.com
* "Pride and Prejudice and Zombies" (by Seth Grahame-Green & Jane Austen) – Quirk Books: www.irreference.com
* AMC's "The Walking Dead" – blogs.amctv.com/the-walking-dead/
* Gowalla – www.gowalla.com
For post-afterparty plans, we highly suggest X-Sanguin 9 (use discount code "sdzombiewalk" to save $3 off standard passes and $10 off VIP passes) and Sabbat ($5, 21+) – we anticipate heavy zombie presence at both!
Please continue to check back for more details on our 4th Annual Comic-Con Zombiewalk… or add us on Twitter, Facebook, and/or MySpace for up-to-the-minute announcements!