Are you ready to #ZOMBIFYSDCC?! We are! Zombies have been exploited in entertainment and media for too long! The undead deserve equal rights and should be treated as fairly as the living actors who portray us in pictures, television shows, movies, and sporting events! We want the right to marry the living as well as the dead. We want access to acceptable memorials should we be offed by rogue zombie hunters; cremating our bodies and/or leaving us by the side of the road isn't going to cut it anymore. Most importantly, we want a respectable supply of food.
Shunned, starving, and unloved zombies are the past. We, the undead, are the future and we MUST march to secure our rights! While the living occupy for their voices to be heard… we must zombify and it begins during Comic-Con 2012 with America's Finest Undead at the MARCH FOR UNDEAD RIGHTS!
When discussing the walk and/or sharing pictures, please use the hashtag #zombifysdcc on Twitter, Instagram, etc. so we can spread the word we want equal rights for the undead!
WHEN:
– Friday, July 13th, 2012 @ 5:30PM.
– Arrive at the meeting location beginning at 5:00PM and no later than 5:20PM.
– The zombiewalk begins at 5:30PM sharp, so do NOT be late.
– Please do not arrive any earlier than 4:30PM, as we don't want to cause a ruckus beforehand.
WHERE:
– We will meet at the corner of 4th & Broadway, in downtown San Diego, to take over the historic Gaslamp Quarter to show the world we aren't going down without a growl.
– The meeting location is within walking distance of the San Diego Convention Center. If you're coming from other locations around San Diego, public transportation (SDMTS) is readily available. There are also MANY parking lots in the area, but their pricing will be high and spaces are limited. We strongly urge use of public transportation or carpooling.
– To get to the meeting location from the Convention Center, walk north (straight) up Fifth Avenue until you get to Broadway. Walk one block and cross the street and you will see palm trees in a large open area next to a shopping center. You're there!
– If you are using public transportation, go to SDMTS and use "Horton Plaza" as your destination. You will find us on the corner of Fourth Avenue and Broadway, near the Sam Goody, outside Horton Plaza and across from the U.S. Grant Hotel.
– Maps…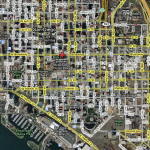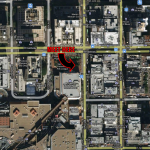 [click any image to enlarge it]
HOW:
– We invite zombies to bring signs, placards, and banners advertising zombie rights. Be clever with slogans and demand equal rights for those of us who still shamble among the living. Please refrain from using profanity/explicit language, as there will be many children in our presence. Common sense is important; despite being zombies, we need to show respect in order to get respect from those around us and we thank you in advance for exercising your best judgment with your #ZOMBIFYSDCC signs!
– As always, the walk is ALL-AGES and FREE of charge to participate. The zombiewalk is open to everyone, not just convention attendees, no badges required! Remember… the more the scarier! This is the perfect way to participate in the fun of Comic-Con without actually entering the convention itself, as you get to dress up and be among fun-loving and entertaining individuals from all backgrounds. This is why we put the walk together year after year!
– Please come dressed and made-up as a zombie. If you need makeup/supplies, please visit Gypsy Treasure, in La Mesa, and tell 'em the zombiewalk sent you!
– We strongly encourage you to get creative with your own outfit & makeup BEFORE the walk as there will be NO onsite assistance with zombification. We are working on possible zombification options for you prior to the walk itself… stay tuned for more details.
– Please be sure to check out our walk guidelines. They are important to make sure we have a walk that is fun & safe for everyone involved and/or watching… and ensures our ability to continue holding zombiewalks in San Diego. We've had a great six years, so let's make sure we can have many more!
Please follow us on Twitter for up to the minute news! We'll see you on July 13th!
OTHER FAQ:
Q: Will there be a pre-party/afterparty?
A: AFTERPARTY INFORMATION IS COMING ON JUNE 13th! STAY TUNED! We can't wait to share details with you… this party is going to be on a completely new level of undead mayhem, instilling FEAR into the hearts and minds of those lucky enough to attend!  AFTERPARTY INFORMATION HERE! More details to come soon!
Q: Will the party be all-ages like the walk or 21+?
A: It will be 21+
Q: Where can I best view the zombies?
A: This is something we are working on for this year. We'll let you know more details when it pans out. Otherwise… please check our FAQ.
Q: Why Friday instead of Saturday like usual?
A: There are several reasons – mostly to do with Comic-Con programming and related events (Masquerade being one), as well as offsite events, occurring on Saturday afternoon/night which would diminish attendance at our event – we have decided to hold the walk & afterparty on Friday this year. We are also giving plenty of warning about the day, so people have plenty of time to adjust their schedules as necessary (and if possible), so they can leave work early (if need be) to prepare for the walk. We understand that we can't please everyone and have fielded some disappointment about Saturday walks in the past, so we're giving the Friday people a chance this year… besides… FRIDAY THE THIRTEENTH! :D
Afterparty information coming soon…